In 1995, the Canadian Mental Health Association released a spot-on definition of meaningful youth participation:
"Meaningful youth participation involves recognizing and nurturing the strengths, interests, and abilities of young people through the provision of real opportunities for youth to become involved in decisions that affect them at individual and systemic levels."  (MHCC Youth Council, 1995)
In 2006 the Commonwealth Youth Programme and UNICEF explained:
"As there are many types of developmental processes, cultures and unique individuals in the world…. there are various definitions of participation. A basic concept of participation however, is that people are free to involve themselves in social and developmental processes and that self-involvement is active, voluntary and informed." (UNICEF Youth Programme Participation Toolkits, 2006)
You may ask why youth participation is so important, or why it matters at all.
Most successful companies wouldn't dream about selling a product without first getting feedback from their customers. They may accomplish this in a variety of ways: focus groups, surveys, usability testing, data analysis or social media feedback just to name a few. This is an imperative process that helps companies to better understand and respond to the needs of their customer. After all, customers are the ones buying the product.
In a similar vein, any organisation or systemic process that is put in place for the benefit of young people should ultimately involve them in behind-the-scenes development processes. Whether you're creating a new law for the youth justice system or funding a youth music project, if young people are being affected it only makes sense that their voices are present at the table.
Youth participation means that young people have some role in the structure of an organisation, project or initiative. It can appear in many different forms, but it means that young people's voices are present in some capacity when decisions are being made.
Young people can be empowered to have a say in a variety of ways, through:
-        surveys and questionnaires
-        one-off focus groups
-        a series of consultation sessions
-        taking the lead on aspects of a project
-        becoming members of organisational panels, steering groups and boards
-        a dedicated youth board, youth council or advisory group
-        campaigning for key issues
-        getting involved in local, national and  international political structures
This list could be endless!
That's not to say that every organisation is ready to jump headfirst to a culture of participation where young people and adults are sharing decisions jointly. It takes a great deal of tools, training, experience and awareness-building to get to this point. Participation is something that must be carried out in a thoughtful and researched way, lest it become an exercise in tokenism.
In 1992, UNICEF and sociologist Dr. Roger Hart published a Ladder of Young People's Participation as a useful framework for participatory practice. It's important to say that this ladder is not meant to represent an entire community at one singular point. Every instance, initiative, individual or event can fall on different rungs of the ladder at different points in time.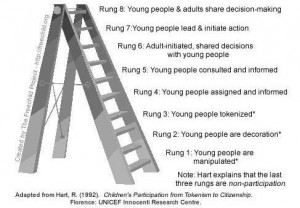 For example, if you are running a focus group it may fall around rung five of the ladder (young people consulted and informed). If one young person has taken the lead in organising the focus group, that individual may be operating around rung six (adult-initiated, shared decision making).  If some reason on the next project that particular young person isn't as eager to take the lead, his or her engagement level may clock in around rung four (young people assigned but informed).
To make matters more complicated, while an adult may perceive that one young person is at one point on the ladder at a singular point in time, when asked that particularly young person may perceive that he or she is at a completely different point.
As you can see, this is not an exact science. Because of this, meaningful youth engagement can sometimes feels like an on going experiment. Or rather, a journey that you are all on together. Now you might be saying "this sounds too complicated, and not really worth my time." While it's not an exact science, the transformational power of meaningful youth participation can be astounding.
Meaningful youth participation can ensure that programmes and services are relevant, engaging and responsive to the needs of young people themselves. Initiatives that respond meaningfully to young people are much more likely to garner wider interest and reach their target audiences. There are many examples around the world where the power of youth voice has been harnessed to transform local communities (more on this in later posts).
Most importantly, for young people meaningful engagement can bring with it a sense of ownership, skills building and an immeasurable confidence boost. It empowers them to have a say in things affecting their lives as individuals and members of a community.
What are your thoughts or experiences when it comes to meaningful youth participation?
The above words are my own and represent my personal views. They do not officially represent any of the organisations or projects I am affiliated with.